Matt Patricia has uprooted his life over the last half of year to coach the Detroit Lions and move from Massachusetts and the New England Patriots and one of the last phases of Patrica's departure from the East Coast to the Midwest is now complete. Recently, Patricia has gone to the steps of listing his home in Wrentham, Massachusetts for sale, and it's a pretty nice one for all the folks who give it a look.
In a piece at Realtor.com by Luke Stangel, some specifics of the home are explained including some of the amenities that it does offer whomever might be looking to make the purchase in the future. An added bonus? It's near Foxboro where the Patriots play. Here's Stangel's explanation of the home from the piece:
"Built in 2003, the Cape Cod–style house sits on 3.3 acres at the edge of a large pond. It's a classic New England lake house, with rustic clapboard siding, forest green trim, and a wide porch. The front door opens to a simple, double-height foyer and staircase. The ground floor includes an updated kitchen with a tile floor, wraparound island, and industrial-style, wire rack butcher block. There's also a cozy breakfast nook, stainless-steel appliances, and tiled backsplash. The living room has a fireplace with a floor-to-ceiling river rock facade, and a floating mantel with carved woodland creatures. The ground floor also has a formal dining room with French doors to the deck. The master bedroom has a walk-in closet and master bath."
Here's a look at just two of the many photos of the house, from the exterior and interior.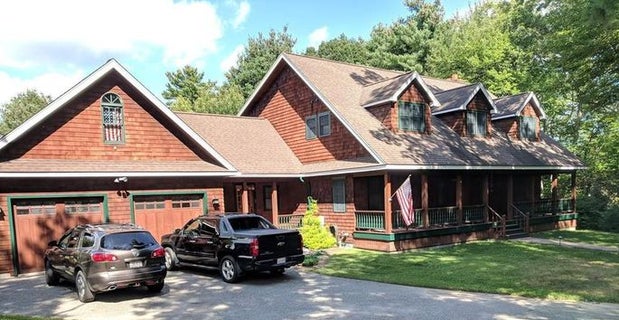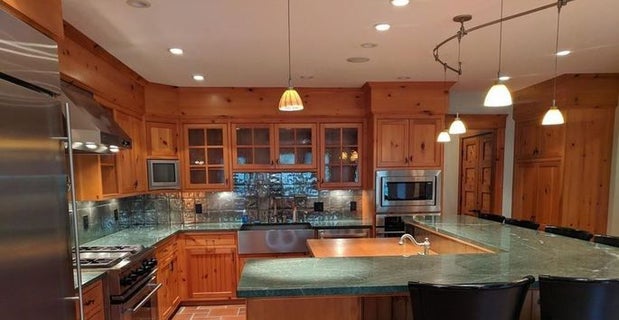 If you're interested in the full listing with some more pictures, which has the house selling for $699,900, find it here from Realtor.com. A nice house for Patricia and his family. Currently, there's been no word on where he might live around the Metro Detroit area.
The Detroit Lions are fighting through another season. Stay up to date with everything —take five seconds to sign up for our FREE Lions newsletter now
Patricia came to Detroit after spending over a decade with the Patriots  In Detroit, Patricia has Jim Bob Cooter as offensive coordinator, who's got experience with the squad. He also brought in Paul Pasqualoni to run the defense, something he's done at the NFL level before. So there's tons of experience there. Positionally, Patricia hired some folks like Bo Davis and Jeff Davidson, guys who have plenty of experience coaching their positions. In addition to that, he's got a Patriots staff in the front office with Bob Quinn and Kyle O'Brien and Harold Nash Jr. as the team's strength coach, so he's had a strong New England support staff to help him get acclimated already.
For a team which was said to be losing faith in their head coach early, the Lions sure looked motivated for Patricia the last few weeks against some elite competition in the form of the Patriots and Green Bay Packers, with Detroit upending two of the better teams in the NFL with two legendary quarterbacks. That gives them a great shot to have a better finish to the season than start.
As Patricia has said, there's a long way to go for the Lions, who need to continue to play tough on the field. Clearly, he's not planning on going anywhere as it relates to fixing them as Patricia is a full time Detroiter now with his house move.